Arachnid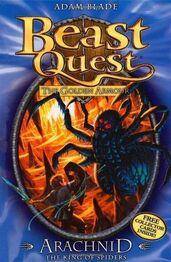 Arachnid is the fifth beast Tom and Elenna face in the Golden Armour, He is found in the caves near the Northern Mountains.
Appearance
Arachnid is a giant, black spider with eight long legs and multiple, red eyes.
Powers
Arachnid has enhanced strength and the powers of any other spider such as scaling walls and creating webs to name a few.
Other
Tom and Elenna first meet Arachnid inside his lair where they rescue one of his victims, Soon they start the battle where Tom calls Nanook to help. After defeating Arachnid Tom receives the Golden Gauntlets which enhance his battle skills.
Community content is available under
CC-BY-SA
unless otherwise noted.